TECNOCOAT POLYUREA

The 100 % pure polyurea waterproofing membrane TECNOCOAT P-2049 is a two component elastomer that once applied provides a seamless impermeable coating, that is completely continuous and adherent to the support and highly resistant due to its high density. These properties make TECNOCOAT P-2049 the ideal solution for waterproofing those surfaces where constant water circulation or even chemicals can create filtrations. The rapid reaction of TECNOCOAT P-2049 , on having been applied, provides stability in only 4 seconds and can be walked on, guaranteeing the properties of waterproofing and protection in just three hours. This polyurea will have ideal conditions after approximately 24 hours.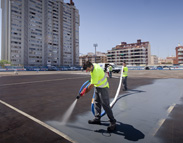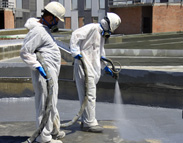 PROPERTIES OF THE SYSTEM
The 100 %pure polyurea TECNOCOAT P-2049 is a waterproofing membrane with high toughness and resistant against wear, that once applied in conditions of moisture offers excellent stability and durability.
The waterproofing membrane TECNOCOAT P-2049 is immune to temperature changes between -40 °C and + 180 °C preserving its elastic properties without suffering either cracks or softening.
The rapid reaction of the 100 % pure polyurea TECNOCOAT P-2049 , on having been applied, provides a stability in seconds and in 3 hours is transitable, guaranteeing the waterproofing properties. This polyurea obtains optimum conditions after approximately 24 hours.
The versatility of TECNOCOAT P-2049 and its drying in 4 seconds, gives it the possibility of adapting to any surface, turning it into the ideal product to be applied on irregular areas with forms of any nature, even curved or squared.
The variety of colors for TECNOCOAT P-2049 is very wide, providing the product to the client already formulated in the desire color, thus avoiding having to apply color pigment on site.
With the application of TECNOCOAT P-2049 you don't have to do any joints, seams or any other type of union since the finished surface is uniform, continuous and of only one piece, providing a very easy to clean surface.
The contact with fuels, fertilizers, animal excrement or urine neither degrades nor corrodes TECNOCOAT P-2049 .
The properties of TECNOCOAT P-2049 , allows it to adhere to any surface like cement, concrete, polyurethane, wood, metal and also, for its high resistance it can be transited and anti-skid applying a rough finish.
TECNOCOAT P-2049 is not considered noisy paving, and though not designed for this use, has good acoustic behavior.
In facilities with silos, deposits, swimming pools, tanks etc. where slurry is stored, TECNOCOAT P-2049 provides complete impermeabilization.
APPLICATIONS OF TECNOCOAT P-2049
TECNOCOAT P-2049 is applicable for a long list of surfaces, the most common applications and therefore more recommended are, polyurethane foam, fiberglass, wood, ceramic, metal, concrete etc.
As a coating to separate internal and external agents very useful for tubes carrying water, chemicals, seweage, gas, etc.
For waterproofing in the construction of swimming pools, reservoirs or deposits. Indicated especially for the effective waterproofing of gardens, landscape coverings (VYDRO) and other outdoor constructions.
For transited surfaces that need to be waterproofed like flat or sloped roofs or patios. Also very indicated as anticorrosive treatment the case of metal, such as the protection of a low layer of polyurethane foam that is outdoors or for encapsulating fiber cement siding.
In transited public areas such as commercial facilities, parking lots and industrial warehouses with a need for paving that is very resistant, waterproof and simultaneously antistatic.
To avoid leaks in containers that contain chemicals or corrosives, preventing leaks that damage the environment or harm people.
As a pavement coating in clean rooms or industries where complete requires a continuous pavement, bacteriologically stable and resistant to wear as well as to diverse corrosive products.
As an impermeable treatment for electrical boxes or closets needing antistatic properties that does not interfere with the components. Highly indicated to avoid the statics accumulation in stores of explosives, elevators, operating theaters of hospitals and places that should be free of this type of charge.
In all kinds of aquatic facilities: leisure, fish farms and aquariums, providing a secure and lasting waterproofing.
In the protection of interior coatings of vehicles, vans, trucks against the corrosion of climate agents. As well as the long-term maintenance for continued use.
EQUIPMENT RECOMMENDED FOR PROJECTING TECNOCOAT P-2049:
For the application of this product it is necessary to have equipment with the following components and accessories:
High pressure projection with mixing gun, heated hoses and product agitator ( Graco E-XP2, see Tecnopol machinery catalog).
Electrical Compressor.
Autonomous respirator for each user
PPE: personal protective equipment (full body suit, boots, gloves, eye protection...)
Diesel generator for complete autonomy.
To obtain ideal results it is necessary to bear in mind that the equipment must take the following technical characteristics as a minimum.
Must be capable of reaching and of keeping a constant temperature of between 77°C and 80°C
Must be capable of reaching and of supporting pressures of at least 2500-3000 p.s.i. / 170 - 205 bars.
It is essential that the selected equipment supports the stability of the above described parameters since this guarantees a correct finish for TECNOCOAT P-2049, otherwise the possible instability of inferior equipment can cause non uniform mixing of the two components resulting in TECNOCOAT P-2049 not curing correctly or not adhering to the surface uniformly.
Also for the preparation of the surface or substrate where TECNOCOAT P-2049 is to be applied, it is necessary to bear in mind that it is necessary to have the necessary equipment for the preparing the substrate:
Cleaning equipment (water jet, vaccum...)
Mechanical stripping equipment (sander, abrasive blaster...)
Thermal treatment equipment (air dryers, dehumidifiers...)
Guns and accessories to apply aliphatic and arid primers
Only the strict fulfillment of the equipment norms for maintenance, cleanliness and repair provided by the technical staff will guarantee the correct application and functioning of the system.
For the use of equipment with different products (polyurethane foam...) is necessary to bear in mind that exhaustive cleaning is required, the method to obtain ideal results will be provided by our technical service.
---
Call Sales: 087 744 8286
Call office: 0404 66111
Request a FREE quotation